2025 is the year of the Big Switch Off…
…when traditional analogue and digital landline telephone networks will be phased out in favour of Cloud-based technology.
This means thousands of businesses need to upgrade their systems, and the demand for telecommunications services is going to 'go through the roof'.
Don't lose out by thinking you have plenty of time. Prices are going to rise, and the waiting time for engineers is only going to get longer.
The time to act is NOW.
The good news is that switching to a Cloud-based solution offers cost savings, additional features, and benefits to improve your customers' experience.
Your reputation relies on your customers being able to get hold of you when they need you.
Unanswered phone calls disappoint customers and can lose you potential sales.
We've got your back.
You want solutions – not just telephone systems.
We'll tailor the right combination of hardware, software, and apps, to meet your needs and exceed your expectations.
What's more, we won't just sell you a solution. We will come to your premises, install it, train your staff how to use the telephony and provide a support agreement to keep it running effectively for years to come.
Keeping your phones ringing and your customers happy is what we do best.
We stake our reputation on it.
What Does the Perfect Solution
Look Like?
What Does the Perfect Solution
Look Like?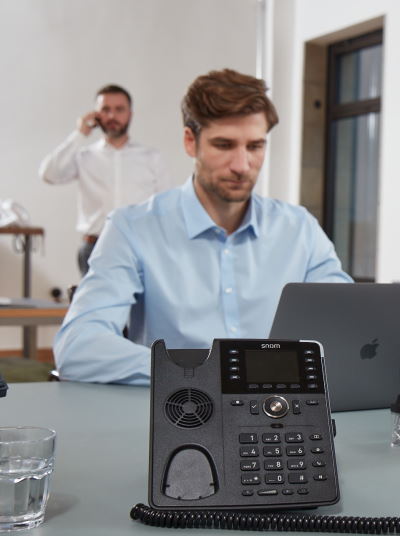 What does the perfect solution look like?
It starts with questions – lots of them.
You deserve more than a five-minute phone call. You want to deal with a company that visits you and takes time to get to know you and your business, your aspirations and your plans for the future.
Your business is unique. You need a solution that is bespoke to you, not something that is 'good enough.'
The perfect solution is fit for purpose for now and as your business scales or shrinks over the years to come.
It uses the most innovative Cloud-based technology to save you money and stops you from having to upgrade every couple of years.
The perfect solution is the one that we will recommend and design after thoroughly getting to know you and your business.
Your choice
– we can keep it simple…
…or get technical
Your choice
– we can keep it simple…
…or get technical
You may be fully conversant with VoIP and SiP and all the jargon that comes with it.
Great! You talk our language, and we will happily talk yours!
If that is NOT you, no problem. We are happy to keep things simple. We will use plain English to ensure you understand everything clearly without needing a degree in telecommunications.
Where old and new collide
At Time, we believe Cloud-based telephony can revolutionise the way you do business. Our technology is leading-edge, but we will never stop giving good old-fashioned customer service.